We are pleased to announce the 2023 PPCDL-Advanced Diagnostic Workshops hosted by the Scientists of the Plant Pathogen Confirmatory Diagnostic Laboratory (PPCDL) in Laurel, Maryland. After a 2-year pause, we have planned for the return of in-person workshops. The planning team has developed a schedule that offers a wide variety of topics and delivery methods…nine topics in all…and both in-person and virtual workshops.
We are encouraging everyone to register for their preferred workshops by December 21st, 2022, however, we will keep the registration window open through January 31, 2023.
The 2023 workshops will run from February 21, 2023 through March 29, 2023.
In-person workshops are shown on the calendar with solid lines surrounding the title and virtual workshops are shown with dashed lines. Course descriptions are posted here.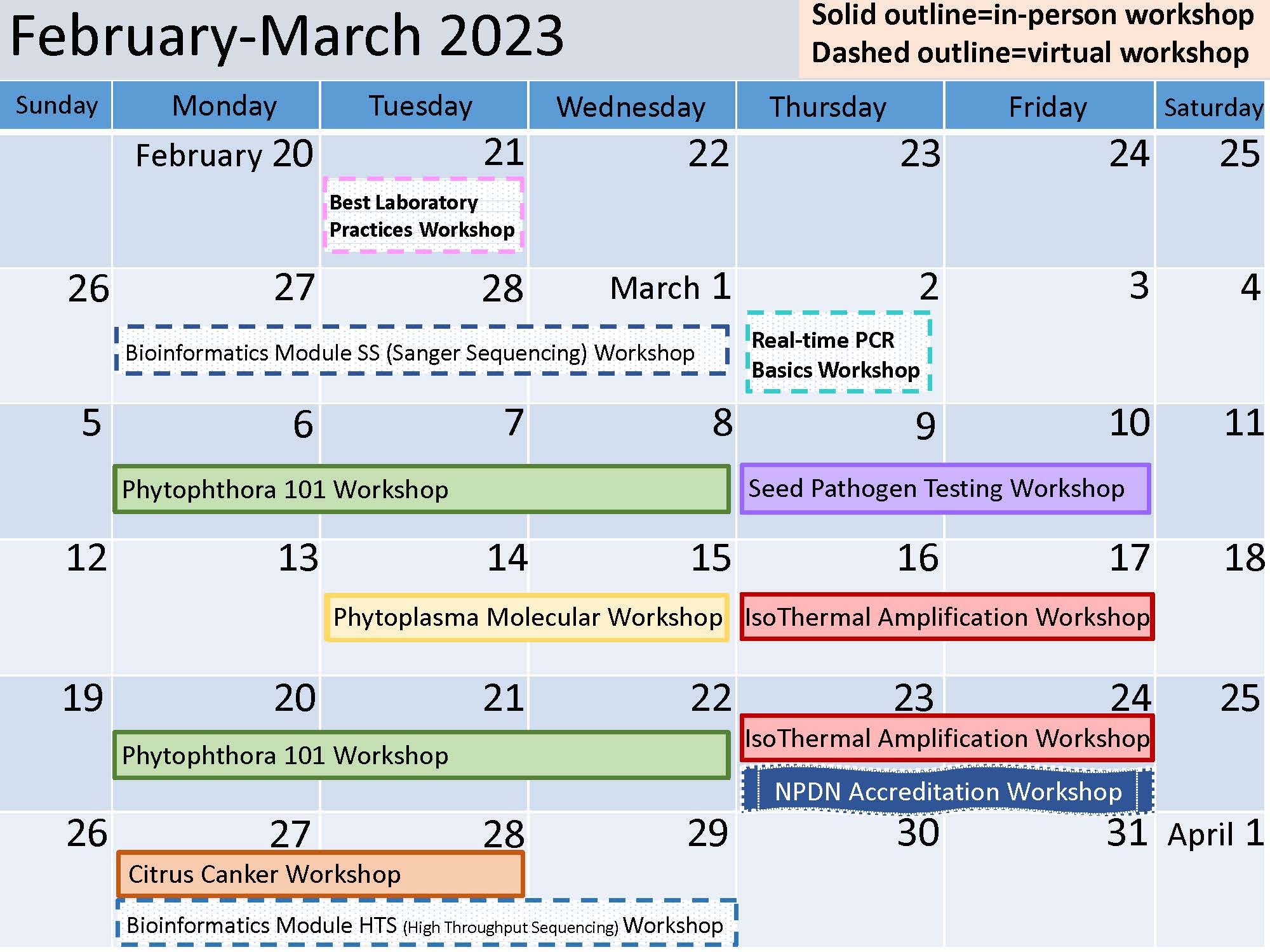 If you are interested in participating in any of these workshops, please contact Barb Riker at br347@cornell.edu cc' Karen Snover-Clift at kls13@cornell.edu.
We are encouraging everyone to register for their preferred workshops by December 21st, 2022, however, we will keep the registration window open through January 31, 2023.
Due to high demand, the Phytophthora 101 and Isothermal Amplification Workshops will be offered in two sessions. Each session will provide the same information so please choose the one that works best for you.
The NPDN Accreditation Committee is planning a hands-on document development workshop for March 23-24, in conjunction with the PPCDL Workshops, so those interested can combine two topics into one trip. Details about the accreditation training will be available soon. Those interested in attending both the PPCDL Isothermal Amplification Workshop and the Accreditation Committee Workshop, will need to attend the first offering of the Isothermal Workshop on March 16-17. When registering for the ISO Workshop, please indicate preference to attend both workshops, those doing so will be given priority for the March 16-17 Isothermal offering.
Workshop participants must be present for the entire workshop. If you cannot attend every day of a workshop, please select another time. If an emergency situation arises, please notify the workshop coordinators as quickly as possible.
Workshop location:
Bldg. 580
BARC-East
Powder Mill Rd
Beltsville, MD 20705
Hotel:
TownePlace Suites Bowie Town Center
3700 Town Center Boulevard
Bowie, Maryland
(301) 262-8045
Those of you not renting cars, will need transportation between your airport and the hotel. Find transportation and restaurant recommendations here.
Here are the Cornell University travel Guidance Document for 2023
Reimbursement
Please note, to improve travel reimbursement processing, we have streamlined the reimbursement request process for 2023. As always, there is no registration fee for attending any workshop(s) or for the meeting materials provided. The workshops are supported by a PPA 7721 Cooperative Agreement. To simplify reimbursements and remove the need for original receipts, travelers will submit a letter, on their institution letterhead, simply listing their reimbursable travel expenses. Here is a letter template to request travel reimbursement and an example, of a per diem calculation.
To demonstrate the collaboration between the NPDN and USDA-APHIS-PPQ-S&T-PPCDL, each traveler will be provided a scholarship that is capped at $1,500 for each trip and/or workshop they attend. Additional costs must be covered by internal funds.
For those attending the in-person workshops, please do not make any travel arrangements until you receive confirmation that the minimum participant threshold has been reached and you have received the travel arrangement details.